GE's continued liquefied natural gas (LNG gas) project expansion plans run contrary to prevailing market conditions in Asia Pacific and its own net zero emissions by 2050 goals. Given the upcoming spinoff of its power business, GE's proposed LNG buildout could damage the financial position and reputation of "GE Vernova" and other GE offshoots.
Although the International Energy Agency (IEA)'s Net Zero Emissions by 2050 Scenario (NZE2050) makes clear that achieving net zero emissions by 2050 leaves an extremely limited and narrowing role for fossil fuels in electricity generation, GE seeks to expand its business in new LNG to power projects planned to operate for decades. These include almost 25 gigawatts (Annex A) of LNG to power projects in Vietnam and Bangladesh. As such, GE would be at risk of failing to meet its already inadequate emissions targets.
GE's stated singular mission of "addressing the climate crisis" rests in stark contradiction to pursuing and developing projects that are incompatible with global climate goals. Such a disconnect puts the company at risk of being accused of "greenwashing".
These investments also create financial risks for GE when Vietnam and Bangladesh (and other countries) could respond to high LNG prices by shifting to alternative energy sources.
How GE is driving climate change
GE is reportedly involved in almost 25 gigawatts (Annex A) of LNG to power projects in Vietnam and Bangladesh, which will likely operate to 2050 and beyond.
GE
continues to rely on scenarios
that fail to meet its own Net Zero by 2050 emissions goal, such as the IEA's Stated Policies Scenario, consistent with a catastrophic 2.5°C of warming and not reaching net zero emissions this century.
In the Chattogram region of Bangladesh alone, gas or LNG to power projects with GE involvement would add approximately 430 million tonnes of carbon dioxide equivalent (CO2-e) to the atmosphere throughout the plants' operational lives.
This is equivalent to almost double the annual national emissions of Bangladesh (Annex B).
Those who are currently investing in fossil fuels in Bangladesh – I would like to urge them not to invest in fossil fuels, but instead invest your money in renewable energy.
যারা এই মুহূর্তে বাংলাদেশে জীবাস্ম জ্বালানিতে বিনোয়োগ করছে – তাদেরকে বলতে চাই যে আপনারা ওই বিনিয়োগ এর টাকাটি জীবাস্ম জ্বালানিতে বিনিয়োগ না করে, নবায়নযোগ্য জ্বালানিতে বিনিয়োগ করুন।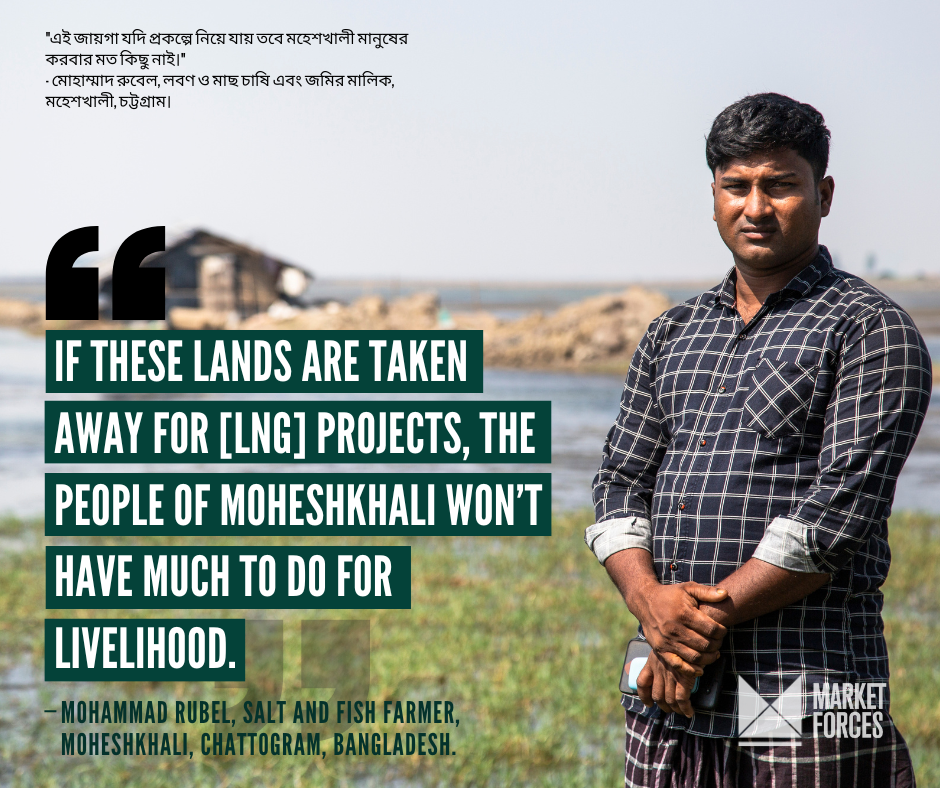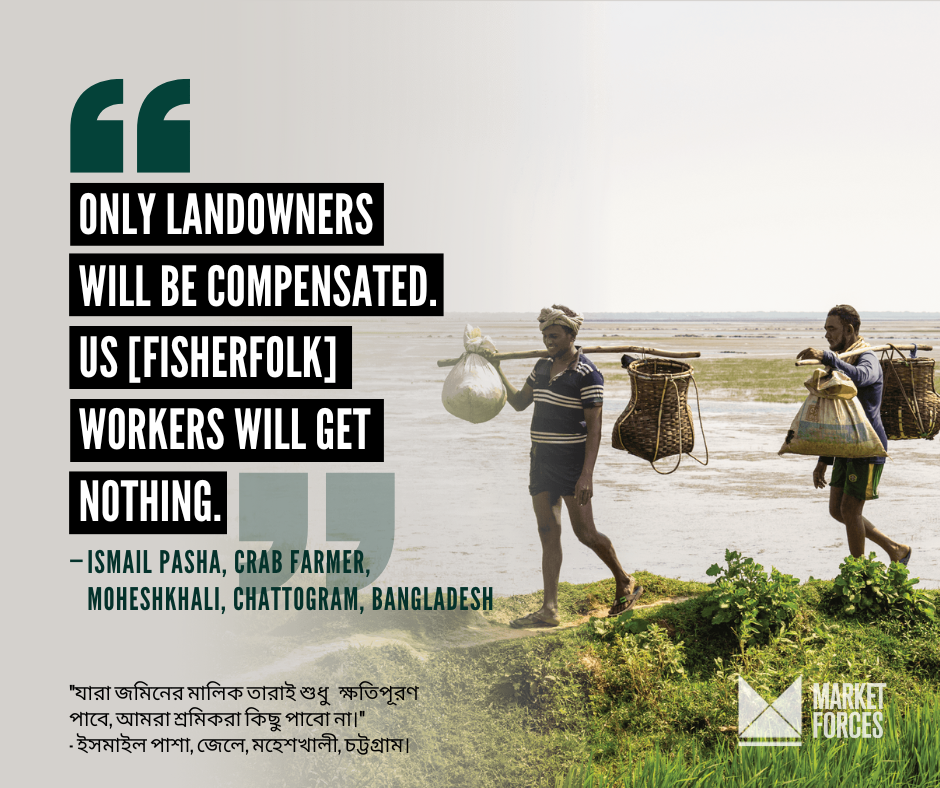 These are members of communities who would be affected by proposed projects with GE involvement in Bangladesh. Credit: Market Forces
Electric Bangladesh: Fossil Free Futures
Market Forces worked with Bangladeshi artists to call on GE to stop pushing new fossil fuel projects in Bangladesh. The Electric Bangladesh: Fossil Free Futures art exhibition calls for a safe and secure future, one where lives and livelihoods are not disrupted, and where Bangladeshis have electricity produced from renewable energy like wind power that GE Vernova has the capacity to deliver.
GE must address these risks by:
not building any new LNG to power projects, given the unacceptable financial, environmental and social risks attached to such projects, and,

announcing its exit from proposed LNG projects in Bangladesh and Vietnam
Investors must pay keen attention to hints of greenwashing to ensure the company's activities do not undermine investors' own climate commitments
Annex A: List of 25 GW LNG projects with GE involvement in Bangladesh and Vietnam
wdt_ID
Project name
Country
Size
Unit
Type of LNG asset
Sources
1
Maheshkhali LNG Power Plant
Bangladesh
3,600
MW
LNG Power Plant

https://thefinancialexpress.com.bd/public/economy/bangladesh/bpdb-ge-

https://archive.dhakatribune.com/bangladesh/power-energy/2018/07/12/mou-signed-for-largest-lng-based-power-plant

2
Matarbari Summit LNG Power Plant
Bangladesh
2,400
MW
LNG Power Plant

https://archive.dhakatribune.com/bangladesh/power-energy/2018/07/11/summit-signs-3-billion-investment-deal-with-ge-and-mitsubishi

https://summitpowerinternational.com/summit-power-international-signs-mou-mitsubishi-corporation-us3-billion-integrated-lng-terminal-and 

3
Meghnaghat (Unique)
Bangladesh
584
MW
Gas/ LNG Power Plant

https://www.aiib.org/en/projects/details/2022/approved/Bangladesh-Unique-Meghnaghat-IPP.html 

4
Mirsharai 660MW power project
Bangladesh
660
MW
Gas/ LNG Power Plant

https://www.thedailystar.net/business/economy/news/govt-build-660mw-plant-mirsarai-2928596

5
Bac Lieu (I, II, II + IV)
Vietnam
3,200
MW
LNG Power Plant

https://deltaoffshoreenergy.com/2020/10/28/delta-signs-3billion-3-2-gw-power-plant-agreement/

https://www.ijglobal.com/articles/149254/vietnam-lng-to-power-to-submit-ppa-heads-of-terms (subscription source)

6
Chan May (Phases 1 and 2)
Vietnam
4,000
MW
LNG Power Plant

https://chanmaylng.com/src/NYTimes.pdf

https://www.ijglobal.com/articles/148935/us-vietnam-jv-to-invest-in-vietnam-lng (subscription source)

7
LNG Cai Mep Ha
Vietnam
6,000
MW
LNG Power Plant

https://ustda.gov/resource-guides/2021-indo-pacific-resource-guide/ (p346)

8
LNG Long Son I
Vietnam
1,200
MW
LNG Power Plant

https://e.vnexpress.net/news/business/companies/genco-3-inks-deal-with-ge-for-lng-power-plant-4195600.html

https://www.genco3.com/en-US/new/evngenco-3-news-1/vung-tau-city-long-son-power-complex-project-with-a-total-value-of-more-than-37-billion-usd-is-launched-in-the-quarter-iv2021 

9
Long An I and II
Vietnam
3,000
MW
LNG Power Plant

https://www.spglobal.com/commodityinsights/en/market-insights/latest-news/natural-gas/102920-us-boosts-energy-infrastructure-push-in-vietnam-with-raft-of-lng-to-power-deals

'PDP8 details mega projects', Project Finance International (subscription source)
Annex B: Emission calculations
The proposed LNG projects are assumed to have a 50% average capacity factor across a 30-year economic lifetime. Emissions estimates are based on median lifecycle emissions from combined cycle gas power of 490 gCO2eq/kWh, according to IPCC 2014, p1335, citing Schlömer S., T. Bruckner, L. Fulton, E. Hertwich, A. McKinnon, D. Perczyk, J. Roy, R. Schaeffer, R. Sims, P. Smith, and R. Wiser. (2014). Annex III: Technology-specific cost and performance parameters. In: Climate Change 2014: Mitigation of Climate Change. Contribution of Working Group III to the Fifth Assessment Report of the Intergovernmental Panel on Climate Change [Edenhofer, O., R. Pichs-Madruga, Y. Sokona, E. Farahani, S. Kadner, K. Seyboth, A. Adler, I. Baum, S. Brunner, P. Eickemeier, B. Kriemann, J. Savolainen, S. Schlömer, C. von Stechow, T. Zwickel and J.C. Minx (eds.)]. Cambridge University Press, Cambridge, United Kingdom and New York, NY, USA.
https://www.ipcc.ch/site/assets/uploads/2018/02/ipcc_wg3_ar5_annex-iii.pdf#page=7
GE projects in Chattagram, Bangladesh adding up to 6660MW X Hours in the year X 30 years assumed expected lifetime operation X 50% capacity factor X IPCC 2014 combined cycle gas power emission intensity of 490 gCO2eq/kWh = 429 million tonnes of CO2 equivalent (MtCO2-e) (approx.)
Bangladesh's 2019 annual emissions was 237.7 MtCO2-e
https://www.climatewatchdata.org/countries/BGD
This webpage is intended to convey factual information about GE.
Information comes from the companies' available annual reports and websites, Refinitiv Eikon, Bloomberg and various news reports.
Occasionally where information is incomplete, assumptions must be made about data and these were made in a consistent manner and in good faith. Whilst we have endeavoured to gather and include all relevant deals, we cannot guarantee the completeness of the information presented.